About Us
RING MIDWAYS SR. SEC. PUBLIC SCHOOL (Recognized & Affiliated to C.B.S.E.) Vipin Garden, Main Najafgarh Road, New Delhi-110059 Ph. :9560479985, 8587922651
Ring Midways Sr. Sec. Public School, Vipin Garden, Main Najafgarh Road, New Delhi-110059 is a Co-educational English Medium School Run by a registered Education Society having prominent educationists. The school was established in 1996.
PROFESSIONALLY COMPETENT AND EFFICIENT STAFF
We believe that learning environment, abundance of resources and professionally efficient and competent teachers immensely contribute to sustain children's education. Most crucial to the quality of education are the teachers and professionals having Competence, commitment, dedication and concern for the development of the child under their care. Each teacher at Ring Midways is a member of school family and reflects the ideals, aims and excellence for which the School stands for. The child's optimal and comprehensive development is our prime objective.
Our School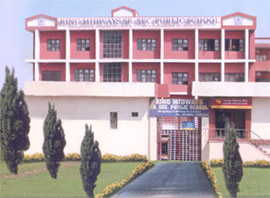 RING MIDWAYS SR. SEC. PUBLIC SCHOOL (Recognized & Affiliated to C.B.S.E.) Vipin Garden